Customer Reviews
About Me
By Wade E.
Ada, OK

"Very professional job. They made sure everything we correct and to our satisfaction."

By David J.
Ada, OK

"Patriot replaced our roofing and gutters, added decking, replaced certain sills and painted our trim. All went well overall. Good..."

By Kim A.
Ada, OK

"Great experience, took care of everything and were very helpful getting the insurance company to pay as they should. Quick..."

By James W.
Edmond, Ok, OK

By Tammy T.
Norman, OK

"Patriot was wonderful to work with! They helped at every stage from beginning to end. Kevin was so knowledgeable and honest with..."

By Hayden D.
Norman, OK

"The Patriot Roofing Company was on time, the crew was kind and courteous, the site manager Kevin explained what the process was..."

By Lori T.
Norman, OK

"I am so happy that I went with Patriot Roofing! I had tried many times over the years to get my old wood shake roof replaced. I..."

By Stephen M.
Cashion, OK

"I had some holes patched on my roof from wind damage on 12/25/2016. Kevin did a great job!"

By Rita A.
Moore, OK

"Contractor was very professional and explained contract and the GAF system and went above and beyond. The workers showed up early..."

By Joni J.
Yukon, OK

"It has been a good experience!"
Testimonials
from customers I've helped!
Kevin Womack

from

Patriot Roofing, LLC
Title:
Project Manager
Hometown:
Edmond, Oklahoma
Kevin's the name, re-roofing's the game. Kevin has helped to carry Patriot Roofing into the tri-state market. He is one of the top rated salesman at Patriot Roofing with 100% customer satisfaction. His eye for color and design helps customers re-vamp the look of thier home with simple changes to their shingles and gutters. Roofer by day, but talented artist by night, Kevin likes to refinish furniture or add native american flare to pieces that are otherwise lifeless. Most of Kevin's off-time is spent with his wife and two boys, enjoying local city life, catching ball games, motocross events, or soaking up family time at the lake.
Videos from projects I was involved with: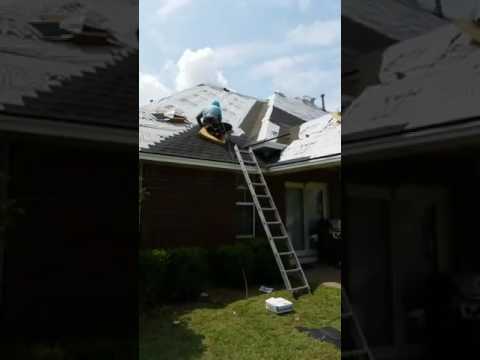 44 SQ redeck completed in one day in Duncan,...
44 SQ re-deck completed in one day. This roof is now up to current IRC building codes!
Watch Video
Related Videos
Before and after photos from jobs I've worked on: