Emergency Roof Repair Specialists in Central Oklahoma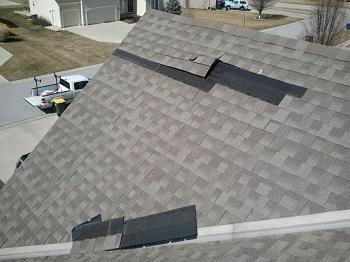 Roofing emergencies rarely come announced and demand a quick response every time.
When your home suffers storm damage, hail damage, or wind damage Patriot Roofing, LLC is there to help
The last thing you ever want is a roofing emergency, but nature rarely asks for permission. When disaster strikes the best you can hope for is quick and effective repairs from a roofing contractor that you can trust to get the job done right.
Patriot Roofing, LLC is just such a contractor. When your home is struck by an emergency you can expect us to be right there on the scene as fast as possible. Our team consists of experienced experts who are well versed in repairing roof leaks and other forms of roof damage. With our combined expertise and exceptional equipment, you can count on us to get the job done as quickly as possible while never compromising on quality.
Contact us today online or at 1-405-261-4234 to schedule your free emergency roof repair estimate today in Edmond, Norman, Moore, or nearby!
No matter the scope of the emergency, you can count on us to have your home back to normal in no time.
Types of roofing emergencies
Delayed maintenance and natural wear due to weather and UV radiation
Fallen tree limbs
High winds tear off shingles and/or roof decking
Improper installation practices
Flashing failures at roof penetrations, including around chimneys, vent stacks, and dormers
While some roofing emergencies can be easily prevented, many others are out of your control. By using proper roof maintenance and preventative strategies you can help to greatly lower your risk, but there is always going to be the possibility that something goes wrong.
What should you do in a roofing emergency?
When disaster strikes make sure you remember these three things:
Don't go up on the roof yourself: A damaged roof is a dangerous environment. Leave climbing the roof to the professionals check it out
Cover your interior: The last thing you want is for roof damage to lead to interior damage. Protect the interior of your home and help prevent leaks with plastic sheeting.
Inspect the roof visually: From the ground, take a visual inspection of your roof to note debris and possible damage
Contact your local roof emergency experts at Patriot Roofing, LLC today!
When roofing emergencies strike your home, you can count on your local experts at Patriot Roofing, LLC to be there for you. As Central Oklahoma's trusted roofing contractor we have the experience and expertise to handle any emergency roof repairs needs you might have from leaks to wind damage or a collapsing roof.
Call us today for a free estimate on any of our roofing services! We work throughout Norman, Edmond, Moore, Choctaw, Shawnee, Oklahoma City, Newalla, Blanchard, Tuttle, Newcastle and the surrounding areas.
Looking for a price? Get a no cost, no obligation free estimate.