Repair Hail Damage in Central Oklahoma
Expert storm damage roof repair in Norman, Edmond, Moore, OK
Patriot Roofing, LLC offers fast and efficient hail damage roof repair cost estimates to help you get your home back to normal fast!
As many Oklahoma homeowners know storm season in the Sooner State can be intense, and hail storms especially can cause serious damage to roofs, siding, gutters and other areas of your home. After a storm one of the most important things to look out for are roof leaks, broken roof shingles, roof flashing damage, and dents in roof vents and fans, among other roof problems.
Even if you don't have any visible leaks in the roof, its very important to get your roof inspected after a hail storm as there may be roof damage you can't see. The roofing experts at Patriot Roofing, LLC have vast experience inspecting roofs in Oklahoma and know the subtle signs of roof damage to look for after a hail storm.
After a storm, call us right away to schedule your free cost estimate roof repair in Norman, Edmond, Moore and nearby!
How hail damages different areas of your roof
Hail storms are often accompanied by high winds, causing the hail to hit your roof at different angles and speed. Depending on the types of roofing materials you have, there are various ways hail can damage your roofing system. .
Asphalt shingle damage: Hail can cause cracked or broken shingle tabs, but the most common form of hail damage is dents or displacement of the shingle granules that protect the shingles from UV degradation. This means less protection and a shortened lifespan for your shingles.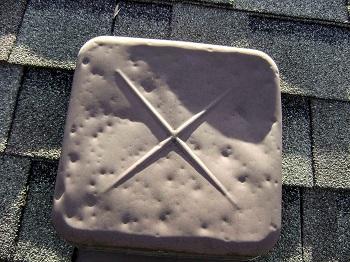 Hail can cause serious roof vent damage as well as roof flashing leaks and broken shingles!
Wood shingle damage: Hail damage will often crack wood shingles along the grain, and sometimes cause parts of the shingles to break loose.

Slate roof damage: Slate roofing will crack as well, but tends to be more random than wood shingles. Often after a hail storm the slate will break from the fasteners and slide off the roof.

Roof vents and roof fan damage : Hail will damage more than just your roof. Ridge vents, attic fans, and roof vents all get damaged during a hail storm and its imperative you get them inspected to make sure they remain in proper working order.
Prevent roof leaks with our fast and efficient roof repair services!
Right after a storm its imperative you get your roof inspected even if you don't see any signs of visible damage. Only a roofing professional can determine the level of roof damage with a proper inspection. We provide free roof repair cost estimates in Edmond, Norman, Moore and nearby! Give us a call today to see how we can help restore your home after a storm.
Looking for a price? Get a no cost, no obligation free estimate.